Buy your tickets now for the 2015 Baltimore Comic-Con, taking place the weekend of September 25-27, 2015 at the Baltimore Comic-Con. This year, the Baltimore Comic-Con welcomes back Richard Case, Todd Dezago, Chris Kemple, Craig Rousseau, Rich Woodall, and Kelly Yates.
Richard Case got his start at Marvel Comics, working on Strange Tales, but got his first real run on Doom Patrol at DC Comics. He has also contributed to numerous other noteworthy, acclaimed titles at DC, including Sandman,Shade, the Changing Man, Preacher, and Hunter: The Age of Magic. He is also a contributor to the Artist Alley Comics digital initiative. His recent work can be seen on DC Comics' Batman '66, Dynamite Entertainment's Flash Gordon and King: Jungle Jim, and variant covers from Action Lab Entertainment's Princeless: Raven the Pirate Princess.
Comics writer Todd Dezago has been a contributed noteworthy story lines to many Image, DC, and Marvel comic books. At Marvel Comics, he has scribed runs on Spider-Man, Sensational Spider-Man, Super Hero Squad, Marvel Adventures, Marvel Age: Spider-Man,Marvel Age: Spider-Man Team-Up, Cable, and X-Factor. For DC Comics, he has worked on Impulse,Teen Titans, JLA: World Without Grownups, Legends of the DC Universe, and Young Justice. Dezago's creator-owned titles, Tellos and Perhapanauts, are published through Image Comics, and have garnered much attention and kudos. Along with his co-creator, Craig Rousseau, Dezago is in the midst of a
Kickstarter
campaign for their newest work, The Perhapanauts: Into Hollow Earth.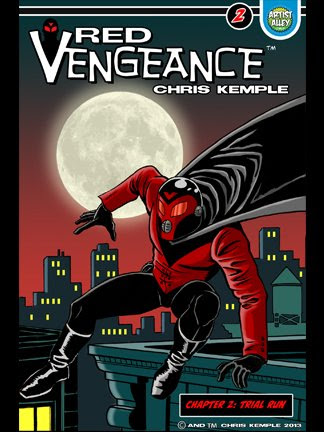 Chris Kemple is one of the contributors to the digital comics effort, Artist Alley Comics, and his work can be found in G.T. Labs' Fallout. After graduating with a BFA in Painting and Drawing from East Carolina University, Kemple worked as an assistant at Artamus Studios with Richard Case, Mike Wieringo, Jeff Parker, Casey Jones, and Scott Hampton, among others. Currently a teacher and freelance artist, Chris was a founding member of and texture artist and 3D object modeler at video game development studio, Red Storm Entertainment.
Craig Rousseau has spent his career as an artist working on numerous noteworthy titles and runs. He has provided art on DC Comics' Batman Beyond,Harley Quinn, and Impulse, Marvel's Captain America & the Korvac Saga, Spider-Man Loves Mary Jane Season 2, and Iron Man & the Iron Wars, and he can be seen lately working on DC Comics' Batman '66, Image Comics' Perhapanauts: Danger Down Under, Dark Horse Comics' Dark Horse Presents, and Dynamite Entertainment's Pathfinder: Goblins! as well as Teen Titans Go! variant covers for DC Comics' Aquaman, Green Arrow, and Justice League of America. He currently has an active
Kickstarter
campaign for his newest work with co-creator Todd Dezago, The Perhapanauts: Into Hollow Earth.
Rich Woodall, also an Artist Alley Comics contributor, is known for his creator-owned titles, Johnny Rayguy, theZombie Bomb! Comic Anthology, and Kyrra Alien Jungle Girl, the latter of which has appeared recently in Dark Horse Comics' Dark Horse Presents. He has also worked on Image Comics' Savage Dragon, The Perhapanauts, and more recently worked on a variant cover for IDW'sTeenage Mutant Ninja Turtles.
Kelly Yates has provided artwork for Amber Atoms,Tales of Tellos, and The Perhapanauts at Image Comics, numerous Doctor Who titles at IDW, includingDoctor Who: A Fairytale Life and Doctor Who: Prisoners of Time, Fear Agent at Dark Horse Comics, and JLA-Z at DC Comics. He also wrote Image'sAmber Atoms, and can lately be found contributing toArtist Alley Comics as well.
"We're excited to welcome all six of these gentlemen back to the show," said Marc Nathan, promoter of the Baltimore Comic-Con. "Each is a great creator, and we're sure our fans are excited at the opportunity to spend some face time with each of them!"
Post by Vikki
Twitter:
ProfessorWhite
Facebook:
Fangirl Review