New Dynamite Comic Wednesday has arrived once again, and we're here to ensure you're prepared for your next shopping trip with the list of all our fantastic titles on-sale this week! When you visit your favorite local retailer, be sure to pick up all of your favorite continuing series including the smokin' Bettie Page #2 from David Avallone, the latest adventure of the She-Devil with a sword in Red Sonja #8 from Amy Chu, the sequel to the hit HBO series A Game of Thrones returns with George R. R. Martin'sA Clash of Kings #3, and Pathfinder: Runescars #4 from James L. Sutter and F. Wesley Schneider! In addition, you won't want to miss the penultimate issues of several of our titles, including Blood Brothers #3, Project Superpowers: Hero Killers #4, and Z Nation #5 from series creator Craig Engler, along with Fred Van Lente! Finally - you won't want to miss our great deals on our two latest trade paperbacks, including Battlestar Galactica: Tales from The Fleet Omnibus and Warlord of Mars Omnibus Vol. 1!
And be certain to check out our fun commentaries and interviews below with Chris Sebela for KISS/Vampirella #3, and Rik Hoskin for Pierce Brown's Red Rising: Son of Ares #4, both on sale now!
Be sure to pick up your copies of all these fun titles this Wednesday, August 23rd! You can find your closest retailer by searching the
Comic Shop Locator
, or visit our friends at
Comixology
,
Kindle
,
iBooks
,
Google Play
,
Dynamite Digital
,
iVerse
,
Madefire
, or
Dark Horse Digital
to reserve your copy today!
BETTIE PAGE #2
The original Queen of the pin-ups is back!
David Avallone (W), Colton Worley (A)
Full Color, $3.99, Teen +
Bettie takes on Hollywood as the B-Movie Queen of the Space Commies! Bettie gets in over her head with the shadowy Sky Science cult! Bettie unleashes chaos at the Griffith Park Observatory!
Writer David Avallone (The Shadow, Doc Savage: Ring of Fire) and artist Colton Worley are your tour guides through the thrilling second issue of The Secret Diary of Bettie Page!IN CASE YOU MISSED IT!
If you haven't picked up your special "Black Bag" variant cover of Bettie Page #1, be sure to grab this great collector's item now, as remaining quantities are limited! Featuring the same great story, this limited-edition cover harkens back to the Queen of Pin-up's heyday and will delight any Bettie Page fan! Only $10!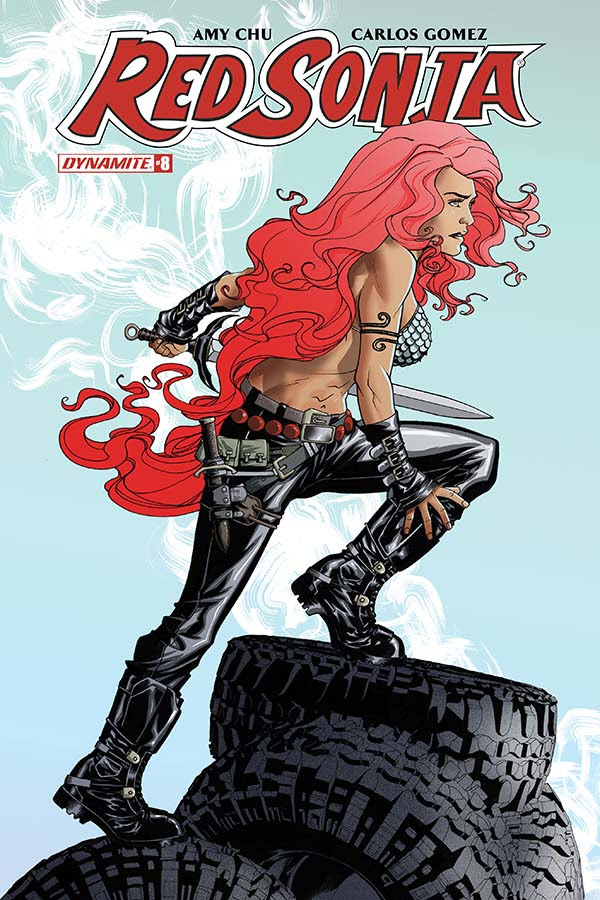 RED SONJA #8
The She-Devil & her sword hit the road in this cross-country adventure!
Amy Chu (W), Carlos Gomez (A)
Full Color, $3.99, Teen +
Buckle up for a wild journey as Sonja treks across America looking for a way back to Hyrkania. But as she heads further West, all she seems to find is trouble...
From writer Amy Chu (KISS) and artist Carlos Gomez!
Poised for action and bound for adventure, Red Sonja, the She-Devil with a Sword has never appears as exciting as ever in this fine art litho presented by Dynamite Entertainment and legendary artist, J. Scott Campbell! These limited edition lithographs are perfect for framing and demonstrate the strength of one of the most time-tested heroines in all of comics and fantasy fiction: Red Sonja! Don't miss out on this limited edition works of art!
MORE OF DYNAMITE CONTINUING SERIES:
GEORGE R.R. MARTIN'S A CLASH OF KINGS #3
The sequel to HBO's hit-series GAME OF THRONES continues!
George R. R. Martin, Landry Q. Walker (W), Mel Rubi (A)
Full Color, $3.99, Teen +
In the far North, Jon Snow and the men of the Night's Watch prepare themselves for the coming winter - but recent events in the war bring troubling news to the north and could shake his oaths. Meanwhile, in King's Landing, Tyrion must play a calculated game of intrigue to establish himself as the King's Hand; but his sister Cersei -the Queen Regent, openly dismayed by the news of his appointment-sets herself against her younger brother, and the two lions of the Lannister family clash!
From writer Landry Q. Walker, with art by Mel Rubi!
BLOOD BROTHERS #3 (DIGITAL ONLY)
The penultimate issue in this fantastic supernatural series!
Fabian Rangel Jr. (W), Javier Caba (A)
Full Color, 32 pages, $3.99, Teen +
The Soliz Brothers aren't seeing eye to eye on their next move. Diego believes that the missing skull they're looking for was purchased by none other than Medusa, and wants to question her. His brother and their boss want to them to keep looking for Calavera. Diego disobeys and finds himself in serious trouble in the form of a raging Minotaur!
From writer Fabian Rangel Jr., with art by Javier Caba!
Supernatural, pulp, fantasy, and folklore - this series has it all; werewolves, minotaurs, medusa's, demons, gangsters and luchedors!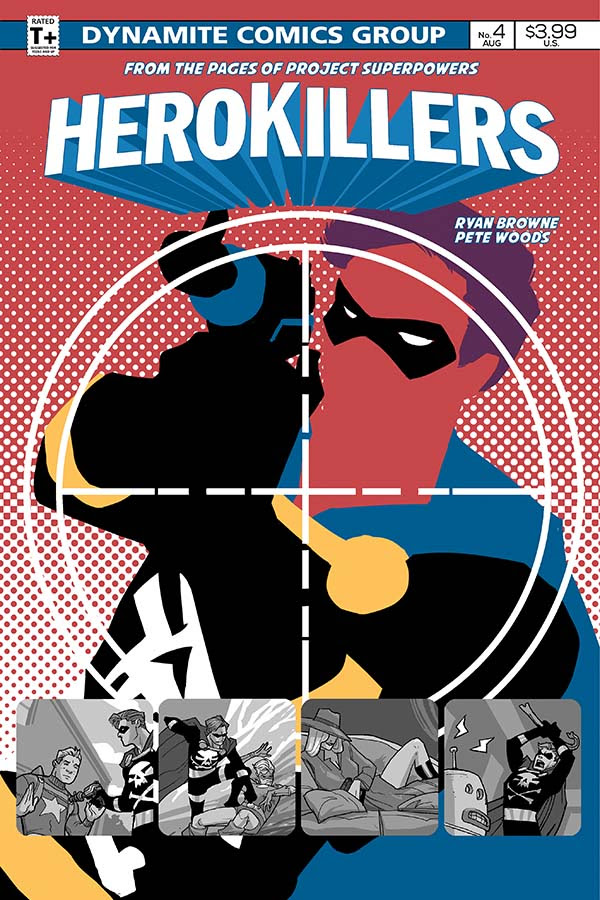 PROJECT SUPERPOWERS: HERO KILLERS #4
Superhero sidekicks gone wild in this penultimate issue!
Ryan Browne (W), Pete Woods (A)
Full Color, 32 pages, $3.99, Teen +
"You know what's cool? Being a superhero. You know what's cooler than cool? Killing anyone in my way that makes me seem like less of a super cool superhero and tries to make me look like the chump that my former boss used to make me out to be, but I sure showed him when I deathrayed him and now who is the big man super hero? I am! That's who! And everyone likes me! And if someone doesn't, I will karate chop them so hard, they will change the word karate to Tim!!!"
- Excerpt from Tim's daily affirmation
From writer Ryan Browne, with art by Pete Woods!
PATHFINDER: RUNESCARS #4
Contains pull-out poster map & official Pathfinder RPG bonus encounter!
James L. Sutter, F. Wesley Schneider (W), Ediano Silva (A)
Full Color, 32 pages, $4.99, Teen +
Still reeling from the death of one of their own, the Pathfinder heroes must chase a rogue Hellknight sorcerer to the foot of an ancient monument in the city of Korvosa. Inside lies a magical storehouse of treasures from a forgotten age, including the fabled Runescar Stylus capable of waking an army of petrified spellcasters. Yet the ancient Runelords didn't leave their treasures unguarded... Dungeon-delving excitement abounds in this wisecracking adventure!
From Pathfinder co-creator James L. Sutter (Pathfinder Hollow Mountain, The Redemption Engine), with art from Ediano Silva (Grimm Fairy Tales, Hellchild: The Unholy).
Z NATION #5
The prequel to SYFY's hit series, written by show producer Craig Engler!
Craig Engler, Fred Van Lente (W), Edu Menna (A)
Full Color, 32 pages, $3.99, Teen +
Z Nation: Sea of Death - Part 5! The Empress of the Seas is capsized by a crazed zombie whale, leaving our heroes in the middle of their own zombie-filled Poseidon Adventure. And even if they can free themselves from the upside down ship and stay out of the clutches of the evil Captain and his Crew, they'll still have to find a way to salvage the Soylent Z and bring it back to the starving survivors at Fort Benning.
The penultimate issue from writer Fred Van Lente and Craig Engler, based on the long running series Z Nation created by Karl Schaefer and Craig Engler.
On sale September 6th! Only $49.99!
True Z Nation fans won't want to miss this out on their chance to grab a copy of the premiere issue of Z Nation, signed by co-writer and comic book super star, Fred Van Lente! Only $49.99 - On sale September 6th! Order yours now!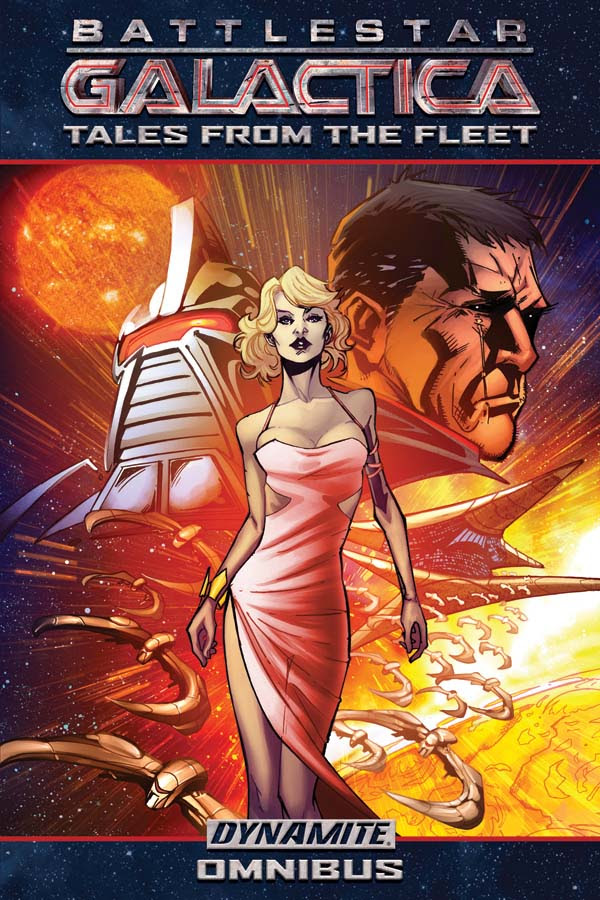 BATTLESTAR GALACTICA: TALES FROM THE FLEET OMNIBUS TP
Three great graphic novels in one low priced volume!
Various (W), Various (A)
Full Color, 352 pages, $29.99, Teen +
For five years, this sci-fi phenomenon reigned as one of the most powerful dramas on television. Dynamite now proudly expands the mythology of the Reimagined BSG universe!
Featuring the works of writers Kevin Seamus Fahey, Joshua Ortega, Robert Place Napton, and artists Nigel Raynor and Jonathan Lau!
Collects Ghosts, Cylon War, Final Five, and more!
Includes a 16-page story, Starbuck, offered to the comic book market for the first time!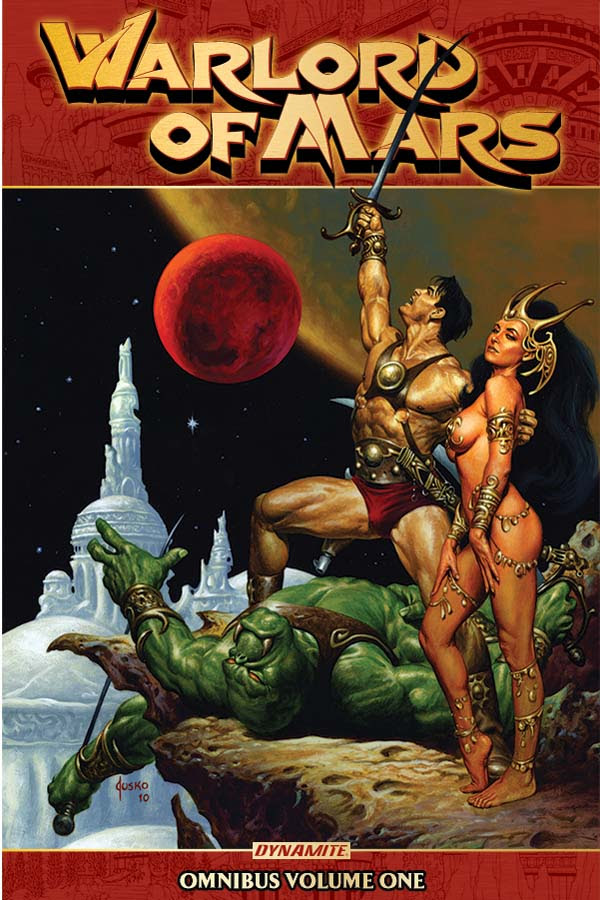 WARLORD OF MARS OMNIBUS VOL. 1 TP
Two classic volumes of John Carter adventure for one great price!
Arvid Nelson (W), Various (A)
Full Color, 472 pages, $29.99, Mature
Mars. Once teeming with life, the Red Planet's oceans disappeared, leaving only a wasteland where savage barbarian hordes threaten to destroy the last few outposts of civilization. But when John Carter, a savior from our own planet, finds himself mysteriously transported to Mars, one of the greatest science fiction epics of all time begins! A faithful, illustrated adaptation of Edgar Rice Burroughs' beloved Barsoom series, courtesy of Arvid Nelson, Steve Sadowski, Lui Antonio, and a diverse constellation of artists!
From writers Arvid Nelson, with art by a number of the best artists in the industry!
Collects issues 1 - 18!
Add the legendary J. Scott Campbell's work to your collection for only $49.99!
Don't miss out on this rare opportunity to add an amazing collectible to your collection today! The original warrior of Mars returns from Dynamite, with a unique and stunning cover from icon J. Scott Campbell!
Post by Vikki
Twitter:
ProfessorWhite
Facebook:
Fangirl Review